Plant Select–  We are proud to carry a large selection of Plant Select plants to thrive in your beautiful Colorado garden. The Plant Select Program is "a cooperative program administered by Denver Botanic Gardens and Colorado State University in concert with horticulturists and nurseries throughout the Rocky Mountain region and beyond. The purpose of Plant Select® is to seek out, identify and distribute the best plants for landscapes and gardens from the intermountain region to the high plains."  We have Plant Select throughout our whole perennial area, just look for the "PS" on the tag or ask a employee for assistance.

Sun-loving Perennials– Colorado is known for its sunny days and as your local nursery, we have just the plants to soak up that sun. We have everything from the traditional iris and peony to the more unusual hyssop and beebalm. Come wander through our large perennial areaand be inspired to create your own sunny oasis.
Shade Perennials– These plants are ones that will come back year after year and thrive in shady areas. Our Patriot Hosta has large, variegated, showy leaves that are dramatic and lush. You can also add a lot of foliage color and texture with colorful Coral Bells or variegated Jacob's Ladder.
Grasses– These ornamental grasses are desirable for their quick growth, hardy nature, and easy maintenance. The towering Pampas Grass provides landscape structure and interest, even through the winter. The unusual blood grass is much smaller but adds a dramatic punch of color.  Our Karl Foresters are one of our more popular grasses because of its upright habit, interesting seed heads and low water needs.  These unique beauties may be just what your landscape needs! They look best planted in rows and clusters.
Groundcovers-These sweet little fillers are necessary for any garden. They help make your garden feel more lush and keep down pesky weeds as well. Some of our hardy groundcovers are known as "step-ables" because they can handle areas with foot traffic. Our woolly thyme gives off a heavenly scent every time it's stepped on so it is perfect for surrounding your flagstones and pavers.  We have Irish Moss and Scottish Moss for those shady areas in your yard too.
Small Fruits & Edibles -Raspberries, blueberries, blackberries, strawberries and rhubarb are some of the well know edible perennials that the Loveland Garden Center carries. We also have the unusual food crop too, such as Elderberry, Gooseberry and Kiwi.  Enjoy the bounty of these plants every year with your friends and family!
Vines– These climbing plants can range from regal, like the English and Boston Ivy, to the showy, such as our Hall's Honeysuckle, to the yummy edible grapes. The vines we grow are great for covering an arbor, hiding an unsightly fence, or gracing your outdoor pergola.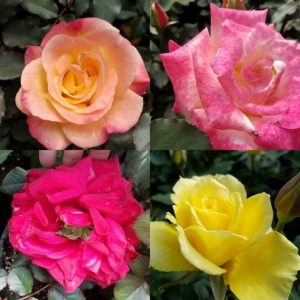 Roses– We are proud to carry Week's and Star roses. The day these delicate and dormant bare root beauties show up at the garden center it is always an event. The whole staff comes together to delicately place them in their buckets with our special Loveland Garden Center soil mixture and watch them slowly leaf out. The grown out roses are always a hit for Mother's Day and will have a stunning presence in your landscape
.