Lemon Slice Calibrachoa               
Bedding Plants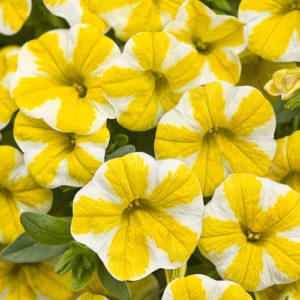 We define bedding plants as showy annuals that are suitable for a flower bed or container and typically don't return the next year.  In our greenhouses we grow the traditional annuals such as Rocky Mountain Geraniums, French Marigolds, and Variegated Vinca vine.  We also grow the unexpected and unique.  Have you seen our Starry Night Petunia or Lemon Slice Calibrachoa? They are sure to get noticed!
                             Starry Night Petunia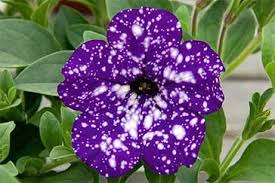 Hanging Baskets
Our baskets are the perfect way to instantly brighten any outdoor space.  They add a dramatic touch of color with minimal effort.  We have gorgeous baskets that are suitable for shady, part sun, and full sun areas and a knowledgeable staff who can point you to the perfect basket for you. We will have the best selection for you late May into mid-June.  Make sure to get a little tutorial from our knowledgeable staff on how to properly water these beauties to keep them thriving until first frost! Make sure to pot your annuals up in our specially formulated Loveland Garden Center Potting Soil.
Patio Pots 
These patio pots are perfect for brightening up a front porch, gracing a back patio, and everywhere in between.  Even placing these instant beauties in your garden will bring a burst of color and lushness that is often hard to achieve early in the season.  Since we grow them here in our greenhouses, they are always going strong so even late in the summer when your garden is looking a bit tired you can easily revive it with a bold patio pot.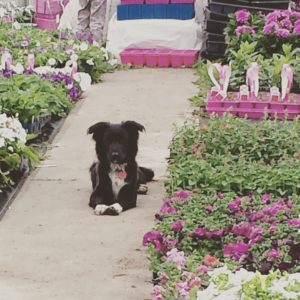 Gizmo in one of our back grow house, protecting the Petunias